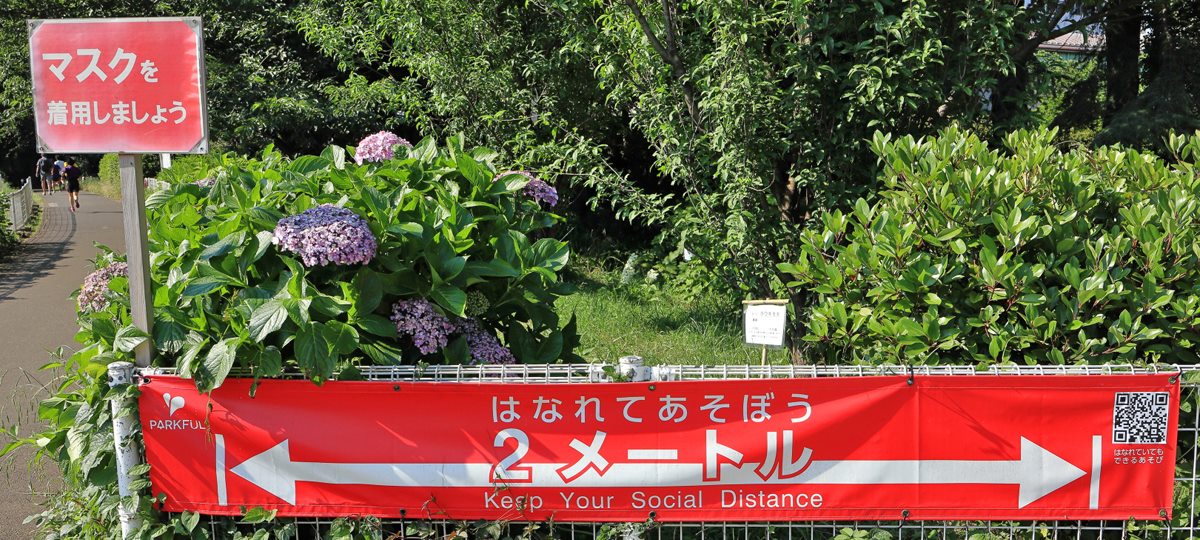 Tuesday, 15 June 2021 – The red signboards in the park
Good evening from Tokyo under the third time state of emergency.
Day 52.
Tokyo has officially entered the slow rainy season, but it doesn't feel like a rainy season. The colour of the sky was vague and not clear. But it wasn't to say bad weather. Usually the rainy season in Tokyo is unbearable too hot and terribly humid, but today was comparatively mild. It made me slightly happy.
Today I watched another early episode of 'Midsomer Murders'. In the episode I watched today, Honeysuckle Weeks, who was only about 20 years old, made a guest appearance. She was DCS Foyle's driver in 'Foyle's War'. And also she played a creepy character in 'Poirot'. Naturally, when I saw today's episode of DCI Barnaby, I thought at first that she must be the killer. Well…?
Today's photos are of the hydrangea grove beside the jogging track in the park. I've lined them up with photos I've taken in the same place from 2021 to 2019. There are red signboards informing people to wear masks and to keep social distance. I really wait for the day when these signboards will be removed.
People who received at least one shot of the vaccine in Japan
As of 14 June: 18,436,101 people
(14.7% of the total population of 125.36 million on 1 May)
Good night. Have a nice dream.
Wear a mask and wash your hands.
Stay safe and healthy 😊😷🖖🖖🖖🖖🖖
15 June 2021 #tokyo #japan
https://www.instagram.com/p/CQJigUipXeJ/